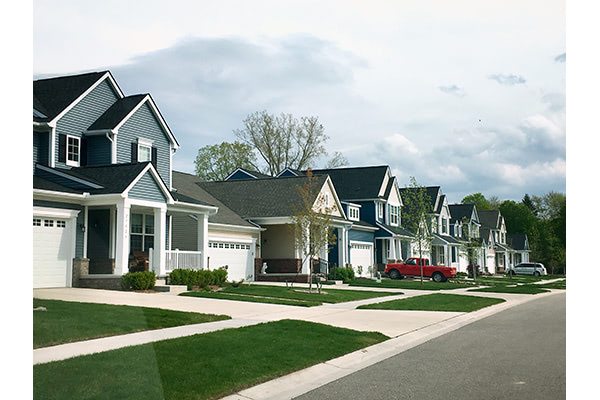 The 5 fastest growing real estate areas in Halifax
It's no secret that Halifax has become one of the most popular cities to settle in Canada. Its beautiful surroundings and relative affordability have contributed to its appeal across the country, even more so since COVID-19 hit. The pandemic has resulted in a rush of newcomers to this vibrant city, but where are the fastest growing places within Halifax to call home? 
If the downtown core of Halifax isn't quite what you're looking for, you might be searching for an alternative neighbourhood within the same area. Luckily, Halifax is full of different spots that are flourishing, and many of them are still very affordable. These are some of the fastest growing neighbourhoods in the Halifax area right now!
Fairview
Fairview has been one of the more affordable areas of Halifax for years, and is now possibly the fastest growing location as well. The lack of supply in other up-and-coming neighbourhoods has resulted in tremendous market growth for Fairview. This small area, with a population of just under 20,000, is the perfect balance between busy city and relaxed suburban life.
Fairview is only a quick drive from downtown Halifax, but living there is often a fraction of the cost. There are many old homes in this area, with some new developments as well. Fairview has all the essential shops, amenities, and proximity to hospitals. This is an area that continues to grow every day, increasing its appeal to many homeowners. 
Dartmouth
Nicknamed the City of Lakes, Dartmouth sits a stone's throw away from downtown Halifax across the harbour. As Halifax itself has become more pricey, Dartmouth has been steadily developing as one of the region's fastest growing spots. With a population around 93,000, Dartmouth is close to all essential amenities, while homes in the area continue to appreciate in value.
It's true that Dartmouth used to be known as a less desirable location, often referred to as the "dark side." However, over time, it has flourished while maintaining affordable housing prices. One of the amazing things about Dartmouth is the 15 minute ferry ride to Halifax, making it a super easy commute. Living in Dartmouth can also offer fantastic views of downtown Halifax from across the harbour!
North End 
North End Halifax is a neighbourhood known for its trendiness, colourful homes, shops, and in non-pandemic times, vibrant nightlife. As an area significantly damaged by the Halifax Explosion, this neighbourhood was largely rebuilt and has some great history. Local university students frequently choose the North End for its proximity to schools. This has created a knot of artistic residents to add to the community. 
North End Halifax has a population around 25,000, and is one of the fastest growing spots in the city. It's further removed from downtown, but as it develops it has also created its own downtown core. This neighbourhood has been developing rapidly over the years, and the pandemic has encouraged even more migration to the area.
Bedford
Bedford is a community sitting at the end of the Bedford Basin, about 15 kilometers from downtown Halifax. This area is known for its scenic views of the basin and general atmosphere of serenity. With a population of around 30,000, Bedford is one of the fastest growing areas in the municipality, largely due to its low crime rate and beautiful geography.
Bedford is full of parks and activities that attract families with young children. It also hosts a variety of housing, with both old homes and new developments available at various prices. This has created a real mix of residents and a diverse community. This area is known for its peaceful mood, while still being full of the necessary shopping and amenities.
Clayton Park
Finally, Clayton Park is a community near Bayers Lake that has been growing in popularity for years. Its proximity to numerous parks and trails attracts a huge number of people, and its diverse culture is steadily growing. Clayton Park is safe, with an easy drive to downtown Halifax and convenient access to public transportation. 
Clayton Park has a population of around 30,000. It has several amenities and shops as it continues to grow and host new residents. It has both affordable and higher-priced areas, making it a suitable location for a wide range of homeowners. The development in this area has made it a more lively spot than the quiet location it used to be, which may be a pro or a con, depending on your preferences. If you value a fast growing area, this is a good bet!
Halifax has an endless variety of neighbourhoods and communities you can explore. Several parts of this municipality are beautiful and desirable locations, and many areas are developing quickly. These fastest growing areas are the neighbourhoods that have been flourishing and proving themselves as some of the top spots to live in Halifax.
If you have any questions about buying a home in Halifax, get in touch with us at Clinton Wilkins Mortgage Team! You can call us at (902) 482-2770 or contact us here.