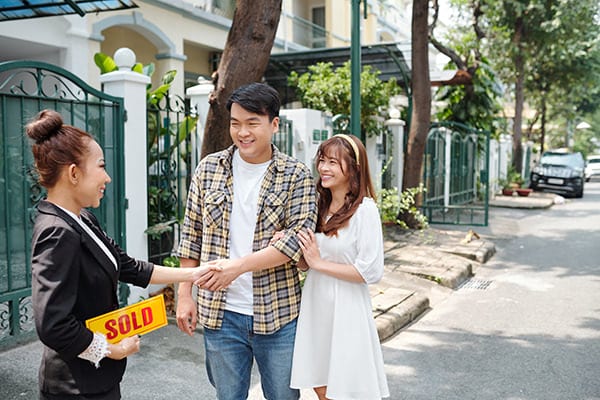 5 tips for buying your first home this spring
Spring is here, and this season is often the busiest for real estate! Buyers and sellers are both on the market, and the April-June season can be a bit of a frenzy. However, we're still in the midst of a big seller's market, meaning buying your first home this spring will look a bit different than in previous years.
While this is usually a competitive and busy time to buy, this year is nothing short of chaotic. The real estate market was hot way before the weather even started to warm up! Housing supply is low, so that means your homebuying experience this spring will be intense.
 Here are some tips to help you navigate the process.
Focus on saving up
First, you need to acknowledge that buying a home in the spring of 2021 is going to be expensive. A busy market season coupled with low supply means saving money is going to be your number one priority, because home prices are still on an upward trend. Hopefully, you've already been saving up. If not, it needs to become top of mind for you!
You already know you'll need to spend money on your down payment, mortgage payments, and closing costs. However, these costs will be sizable this time of year, since house prices are so inflated. Make sure you have a realistic budget worked out, and you focus on saving according to that budget. You can read more about saving up for a home here.
It's also important to keep your credit score in good standing. A higher credit score will give you more options in terms of interest rates on your mortgage, since the lender will be more confident in your finances. Navigating the homebuying process with a good credit score is a handy tool to have, and it can save you a lot of trouble and money along the way.
Choose a local agent
Not every real estate agent is the same, and they won't all be right for you. Select an agent who knows the area you're moving to – you want to work with someone who's familiar with real estate in the neighbourhood. Buying your first home is going to be one of your biggest expenses, so you want to have an excellent agent on your side. Take your time and do your research before picking an agent. They will be your guide in this complex market, so you need to trust them. It's also important for you and your agent to understand how much homes are selling for in the area you plan on buying. This will help you navigate appropriate asking prices and offers, and what you can expect from sellers.
Don't get distracted
There are a lot of factors that might distract you from your objective, which is to buy a home that works for you. Don't get swayed by the staging setup, whether you love it or not. Look past the decorations to the home itself, and try to imagine living there without the furniture and decor. Also, don't take too much interest in why the owner is selling. As long as it's not a result of an issue with the home or the area, it's not relevant. Look beyond unimportant details, and focus on the location and the house itself. You should also pay for an inspection. This way, you know what you should actually be focusing on.
Consider your negotiables
Are you having trouble buying your first home because you're getting outbid by other buyers? If so, don't increase your budget too much. Assuming you created a realistic budget for yourself, you're already working with what you can afford. Instead, it might be time to turn to your housing "needs." These can be more flexible. For example, maybe you wanted a home with four bedrooms, but could you be happy with three? Could you buy a home with an unfinished basement, even though you prefer it to be finished? This might not be ideal, but it could be the trick to securing your first home. Buying in a seller's market means it's going to be harder to find a home in your budget that meets all your requirements.
Act now
Finally, remember spring is the busiest time of year for real estate. This seller's market will make buying even more competitive, and it's important to plan ahead and be prepared. While you shouldn't rush into buying a home, you shouldn't be indecisive either. If you see a home you want, go for it. Most importantly, contact an unbiased mortgage broker to help you with your house hunt! Brokers work with clients to ensure they know their budgets and can secure the best products for their needs. In today's market, working with a broker is an especially important part of buying your first home.
If you have any questions about buying a home this spring, get in touch with us at Clinton Wilkins Mortgage Team! You can call us at (902) 482-2770 or contact us here.