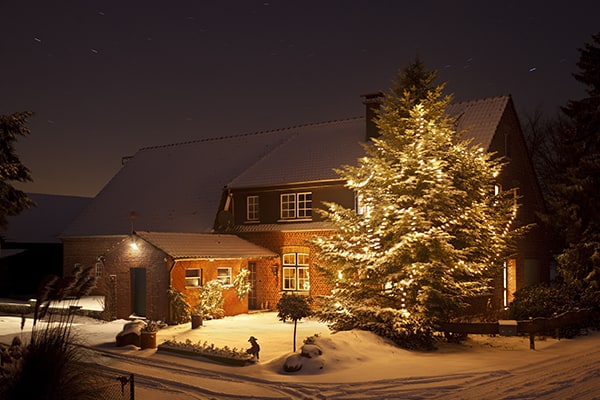 5 Tips to Prepare Your Home for the Winter!
Preparing Your Home for the Winter!
With the cold weather upon us, it's time to hang our holiday lights and cozy up with a nice cup of hot chocolate so that we can enjoy the holiday season. But before we do that, we must get our home winter ready. Just like sweaters and gloves for ourselves, we must do similar things so that our home can withstand the winter.
Clean Out the Eavestroughs
In case icicles weren't heavy enough, it is best to avoid having the unnecessary weight of frozen leaves in your eavestroughs. It is important to make sure your eaves are clear of any debris like leaves, dirt, sticks to prevent damages to them. Not only can you damage the eaves by not clearing them out, but you can also cause damages to your roofing, siding and wood trim. This will also decrease the risk of having clogged eaves that prevent the draining of rain and melting of snow. This could cause household leaks, and nobody wants that!
Hit the Roof
While you're up on a ladder cleaning your eaves, might as well check your roof! Look for any damaged, loose, or missing shingles. If you don't feel like climbing up in the roof to check your shingles, take a pair of binoculars and scan it closely to look for any problems. These may leak during winter storms or from the snow melting. If your roof needs some attention, call a roofer to help with the maintenance or repairs. While they're up on the roof, ask them to look at the caulking around your chimney and air vents!
Windows and Doors
To help prevent heat loss in your home, be sure to check that your windows and doors are properly sealed. Check the weather-stripping around the windows and door frames, and check for drafts. If it's necessary, replace the weather stripping where needed and caulk both the inside and outside. A good rule of thumb is that if the gaps between the siding and frames is bigger than the width of a nickel, you need to re-apply exterior caulk. This will help keep the heat in and the cold out!
Furnace Checked & Fireplace Checked
To make sure you keep the heat in, get your furnace checked to ensure that it is running efficiently. Having a technician come ensures that it is clean and in good condition but will also measure carbon-monoxide leakage. For those that are using their fireplace this winter, make sure that it is inspected too. This will help prevent chimney fires and carbon monoxide from building up and creeping into your home.
Freezing Pipes
Frozen and burst pipes can be a headache, so it's crucial to prevent your pipes from freezing. Frozen pipes can potentially burst and cause a flood in the house, which will result in water damage. Pipes that run along the exterior wall of your house or ones that aren't located in heated areas of the home should be insulated with insulation sleeves.
These pipes could be ones found in the basement, attic, garage, or crawl spaces. If it hits extremely low temperatures, let a little water drip from the faucets since this will make it harder for water to freeze. Another tip is to always keep the heat on, even if going on vacation, since this will keep the pipes from getting too cold.
By preparing your home for the winter, you will reduce the risk of damages. These damages may not be covered under your home insurance policy. Taking the proper steps to protect your house from the elements will save you money from potentially expensive home damages.
P.S. be sure to check our the rest of our blog here!