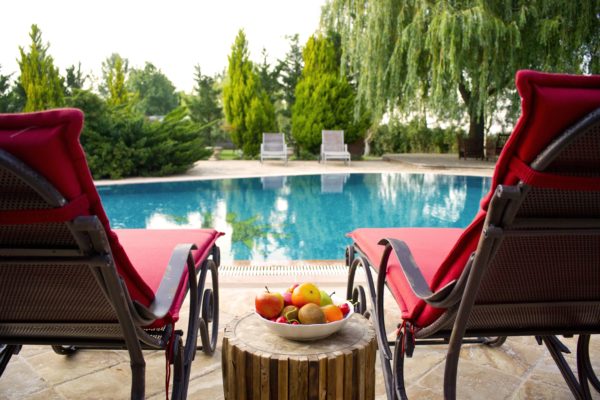 To Pool or Not to Pool – Is a Pool a Good Investment?
Remember the weather during the summer of 2018?  High temperatures around 30 degrees and lots of humidity?  Hard to forget.  Wouldn't it have been nice to peel off those sticky clothes and submerge yourself in a cool, refreshing pool in your own backyard?  I think so too!
What's to Come in the Summer of 2019
According to The Old Farmer's Almanac, we can expect a similar summer in 2019.  Perhaps a wee bit cooler in July, but similar high temperatures in June and August.  I'm already online shopping for a new bathing suit as you can't be too prepared.
To Pool or Not to Pool
Who doesn't love the idea of coming home from work, stripping down, and plunging deep into a refreshing pool?  All in the privacy of your own backyard.  But, you must first ask yourself if the investment is worth it.  Above ground pools can set you back several thousand dollars, and for an in-ground pool, you are looking at $5,000 and more. And let's not forget about the fence you may need to build for safety.
The Perks of Being a Pool Owner
Besides the obvious quick cool down on a hot and muggy summer day, there are many benefits to pool ownership.  Have children? Why not create a staycation for the family, as poolside with the family is great quality family time.  Pools can provide great low impact fitness for every member of the family as well.  And you can quickly become the hit of the neighborhood by hosting community pool parties.  BYOB (bathing suit)!
Are There Downsides and Risks?
Of course there are, or we would all have  a pool.  Maintaining a pool is a lot of work.  Also, do you really want the neighbors knocking on your door every day looking to take a dip?  After all, you purchased it for you and your family!
Let's not forget about when it comes time to sell your house.  Pools are not guaranteed to appeal to every buyer.  Remember, when you are selling your house you want to appeal to as many people as possible, and while you might love your pool, not everybody wants to take on that responsibility.  Finally, and most importantly, you need to think about getting your investment back when you sell.
When it Makes Sense to Put in a Pool
There are a few things to think about.  The pool should be the right size and you need to be living in the right place.  If the pool takes up the entire backyard you are likely to lose a lot of potential future buyers as not everybody is prepared to make that trade-off.  Also, are you the only home with a pool in the yard?  Is that a good thing or a bad thing?  Well, it depends.  It can be seen as a competitive advantage, but perhaps that only makes your home the most desirable on the block without increasing its value.  On the other hand, if you are in a neighborhood full of pools and you don't have one, you may suffer by comparison.
Final Thoughts
Ask questions.  Of whom?  Start by contacting us, your trusted mortgage broker team for more information.  Also, if you have a trusted realtor, she or he can provide you with some market specific information to help you make this decision.  Either way, enjoy the summer, and make sure you find some time for a cool dip in a pool, lake, or even the chilly Atlantic ocean.