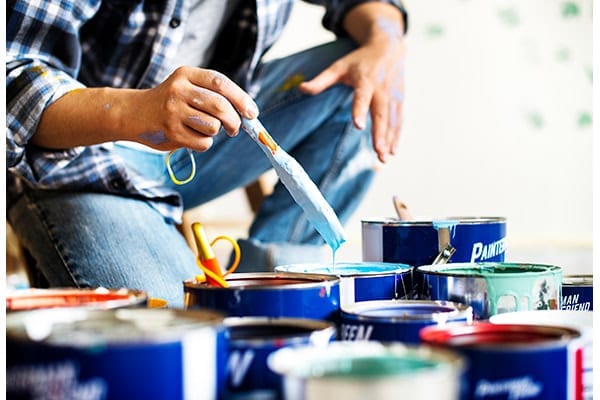 Top 5 things you can do to increase your home's value
Do you know how much your house is worth? This depends on a lot of factors, of course, but you might be surprised at which aspects matter the most. You might also be wondering how you can increase your home's value to its fullest. There are a number of different projects that have a high return on investment (ROI) for your home. 
Whether you're thinking of selling, or just want to make some upgrades to your home, here are five projects that will increase your home's value.
Patio or deck addition
Who doesn't love a good outdoor space? Buyers highly value a home that comes with a patio or deck attached. They're perfect for using a barbecue, lounging, or just taking some time away from being inside. Patios and decks add a huge draw to your home, and can increase its value tremendously.
It's not necessary to go all out on a patio addition – on the other hand, you should do the opposite. For most buyers, just seeing that a property has the potential to host a nice outdoor space is enough. If they ever own the home, they can cover the cost of extra additions they choose to stack on. That means you can skip the fancy fire pit, unless you really want it for yourself. A simple patio addition will cost you less money, and give you the same high value result. You're more likely to earn money back from this kind of project if you keep it basic.
Minor bathroom and kitchen renos
The common belief that a kitchen and bathroom are the two most important rooms in a home rings true here. A lot of potential buyers base their decisions around these two areas, meaning they add a lot of value when they're at their best. 
Similar to a patio, you shouldn't go overboard with renovations in your kitchen and bathroom. Doing a complete redo will cost you buckets of money, and you likely won't make all of that money back. In most cases, minor makeovers are all you need to increase your home's value. Dual vanity mirrors in a bathroom and fresh countertops in a kitchen, for instance, are immediate upgrades you can make. 
Paint
Scuffed and chipped walls are one of the biggest ways to reduce the value of your home. Even though the walls blend into the background of a house, it's important to keep them fresh and clean. A new layer of paint will show you care for your home.
Greys and beiges are modern, neutral colours that are easy to match. With this in mind, it's generally a good idea to match your walls to this kind of palette as it will accommodate most types of furniture and decor.
You don't need to repaint your entire house, either. Fixing some of the older paint jobs is perfect, and even some basic touch-ups will often do the trick!
Preventative maintenance
Not all high value home projects are renovations to fix existing issues. Sometimes, it's best to think ahead to what can become a problem in the future. Buyers would rather invest in a home that's taken preventive measures, instead of having to fix issues down the road.
Take a look beyond the interior of your home. For example, consider your roof. Could it stand to be replaced? You might think that as long as it's not leaking or falling apart, it's in good shape. On the other hand, nature and weather are constantly wearing your roof down over time, maybe without you even noticing. Have a solid inspection done. If it looks like your roof may cause issues within the next few years, increase your home's value now by fixing it.
You can also improve parts of your home that you can't even see, but will certainly make a difference structurally. Are your air conditioning and heating systems working properly? Is your foundation waterproof? These projects will all add value to your home and are always worth your while.
New garage door
This might be a bit surprising, but a new garage door can have a huge impact on your home's value. At first, it seems like one of those things no one really notices, and doesn't need a ton of attention. In reality, the right kind of garage door makes a big difference in your home's value.
Curb appeal is about how inviting a home looks when someone passes it from the outside. Since the front exterior is obviously the first part of your home people see, it matters a ton. An old garage door with peeling paint hardly adds to a home's allure. The colour and style of your door do wonders when they match the rest of your home. You can keep it basic or add windows and bold colours – the key is to keep it fresh.
Modern garage doors are also more efficient. A solid door with a good seal will keep your garage feeling warmer during the winter months, so you don't have to dread venturing out there quite as much.
There are a lot of projects you can take on to increase your home's value, which will benefit you (and your bank account!) if you ever decide to sell. You can also read an older blog here for some DIY home improvements. If you have questions about buying a new home and need help with the mortgage process, get in touch with us at Clinton Wilkins Mortgage Team! You can call us at (902) 482-2770 or contact us here.