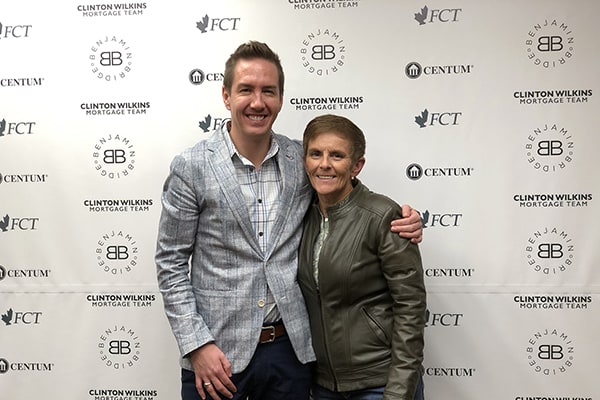 Welcome, Wendy Scudder, to the Clinton Wilkins Mortgage Team!
The newest member of the Clinton Wilkins Mortgage Team is Wendy Scudder, who joins the team as a Mortgage Assistant.  Wendy joins after a very successful, 30+ year career as a personal banking officer, broker relationship manager, and real estate broker assistant. 
Wendy's Background
Wendy has significant experience in working closely with clients to determine their needs. Wendy's experience includes having worked in banking for over 30 years.  She does everything she can to then exceed those customers' expectations.  Having deep knowledge of the mortgage industry, Wendy also brings with her a well-established network of professionals. This network will surely aid in providing the new clients Wendy meets an exceptional experience.
A Few Thoughts from Wendy
"I am ecstatic to be joining the Clinton Wilkins Mortgage Team," said Wendy when talking about her new role as a Mortgage Assistant. Wendy adds, "I have no doubt that the collaboration will be meaningful, and I am looking forward to working with Clinton and his team."
Wendy's Role
As a Mortgage Assistant, Wendy will be gathering all the information from clients and entering it into the system.  This will also involve working directly with clients to ensure that their file is complete. This allows the mortgage broker to then take over and work diligently for the client to obtain the best product.
Clinton's Thoughts on Wendy Joining Team Clinton
"Having Wendy join the Clinton Wilkins Mortgage Team is a real gift," said Clinton. He adds, "her years of experience in the field combined with her natural aptitude for creating a welcoming environment for clients will mesh nicely with what we do on a daily basis here at Team Clinton."  Clinton also added that having a new member join the team is exciting as the Clinton Wilkins Mortgage Team is having their best year ever!
Final Thoughts from Wendy
Wendy recognizes that she alone cannot solve the world's challenges.  Overcoming challenges provides Wendy great pleasure, and for her makes life meaningful.  Wendy believes that the most amazing achievement one can accomplish is helping others achieve their dreams.  Being a part of the Clinton Wilkins Mortgage Team will provide Wendy this opportunity.  Click here for more about Wendy, and don't forget to drop by or call Team Clinton for all your mortgage needs.