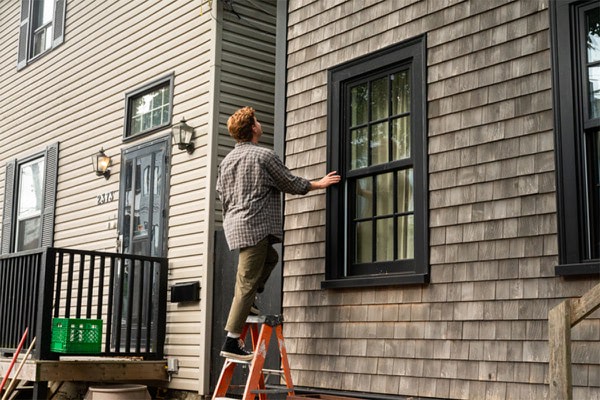 Fall is here! It's time to get your house prepared
Fall is just a few days away! Many of you are likely excited for all the festivities of this season, plus the knowledge that the holidays are getting nearer as well. From pumpkin patches to Thanksgiving to Halloween, there's lots to look forward to this time of year. However, first it's time to get your house prepared for the season!
It's important to take some time to get your home ready for fall, both inside and outside. Here are some of the areas you should focus on.
Eavestroughs and gutters
The view of leaves gently floating to the ground in fall is one of our favourite sights, but it can also pose some ugly problems if not monitored. As light as individual leaves are, when piles of them fall into your eavestroughs and gutters, they will block any rainwater that falls into them. When that water can't drain, the weight of it and those soggy leaves will get very heavy, eventually leading to damage or even a collapse. Yes, even something as innocent as a pretty orange leaf can wreak havoc on your home. To prevent this chain of events, be proactive and clear out your eavestroughs and gutters a couple times throughout the season. It's especially important to do a final clean right before you expect to see the first snowfall, so you can make sure everything is cleared out before it starts freezing.
Lawn and yard preparations
Lawn and yard work are often the biggest tasks for home owners during any season. In fall, this work involves undoing all your spring and summer efforts to put your home back in its proper condition for the colder months. If you have a pool, it's time to think about closing it down for the season. If you do this job yourself, you can of course do it on your own time, but if you hire a company to do it for you, be sure to get in contact with them soon! These companies get very busy during pool opening and closing times. Any outdoor furniture, like patio tables and chairs, need to be moved inside or to your garage to prevent it from suffering damage. The same goes for plants that have a longer lifespan. While they may do well outside in the summer, you're going to need to relocate them to a sunny patch inside your home to keep them alive in the fall. 
Finally, you have to deal with your actual lawn and the leaves that have undoubtedly fallen on it. Cut your grass nice and short one final time, so it's healthy and ready for spring when the snow melts once again. Leaving long and raggedy grass under a layer of snow all winter will give it a slower start in spring, and can increase the risk of grass disease. As for those leaves, raking them up into yard waste bags for removal is a fine option, or you can leave them! Leaves can actually help keep your lawn's soil healthy, and they provide a safe spot for little animals to hide under.
Window washing and screen removal
In general, spring and fall are two good times to clean the windows in your home. In spring, you want shiny windows that are cleared of the grime from the winter. In fall, you want to make sure your windows are as clean as can be before the nasty weather hits. Wash windows inside and outside to get rid of smudges, fingerprints, and dirt. You can also remove window screens since you won't be opening windows during the cold months. You can hire a company to do this for you if it's a big undertaking, or if you don't want to climb a ladder to reach your windows yourself.
Make sure your house is heated
Once fall hits, it's time to get the heating in your house prepared. You don't want to find yourself freezing in mid-November because you didn't do some simple checks in September. Your furnace is likely your biggest source of heat in your home. You can have it serviced and inspected to ensure it's in good working order before it becomes super necessary, so you're not making frantic calls to companies. You should also change the filters so you'll have the cleanest air circulating your house when everything is shut up for winter. Finally, be sure there are no drafts or cracks letting cold air in or warm air out. This is common around windows or in attics where insulation can be poor. If necessary, use caulking or sealant to close up any cracks.
Test fire and carbon monoxide alarms
Finally, keep safety top of mind during these cold months. The fall and winter are the most common times for house fires, since we keep everything closed up and use lots of heating in our homes. Similarly, carbon monoxide leaks can be far more dangerous in a closed off home as well. Since you should test these alarms annually, you can do it now to make sure they're ready for action if required (hopefully they won't be!).
Getting your house prepared for fall isn't always a treat, but it's important for ensuring the security of your home! You don't have to do all these tasks in one day, either. Work your way through these jobs until you find yourself fully ready to take on this season and all it has to offer. Happy autumn!
If you have any questions about your mortgage, get in touch with us at Clinton Wilkins Mortgage Team! You can call us at (902) 482-2770 or contact us here.