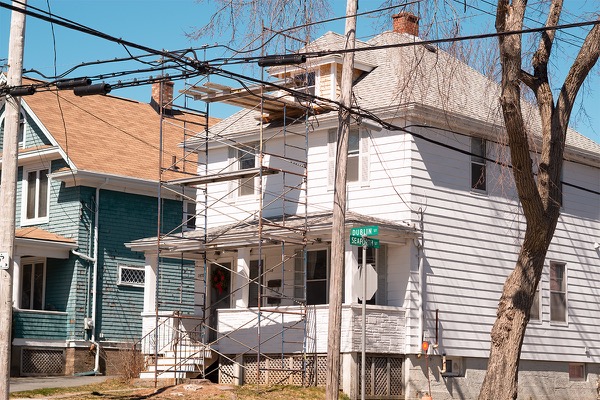 Summer projects to improve the value of your home
If you're looking for inspiration for summer projects to take on in and around your home this year, look no further! We know how important renovations can be to improve your home's value, and your own enjoyment of your space. While renovations aren't necessarily seasonal, there are some projects that make more sense to do during the warmer months. Here are five ideas to get your creative juices flowing!
Replace your flooring
The flooring in your home can set the tone for the atmosphere of the entire house. Whether you live with tile, hardwood, linoleum, or carpet, your flooring makes up the base of a living space. Since flooring is a pretty important part of your house, and it obviously gets a fair bit of wear and tear, perhaps it's time to update or replace it this year. 
This is a valuable renovation year-round, and fresh flooring will always increase your home's value. The reason we suggest it as one of the best summer projects is because this is a renovation that is pretty intrusive. It's loud, messy, and requires you to be out of the way. If you take on this project in the summer, it offers some benefits. Contractors may be able to perform some of the work outside, such as cutting floorboards to size, which will reduce the noise and mess indoors. Plus, in the summer you can escape outdoors to be out of the way, instead of being stuck inside in the winter.
Build a backyard shed
If you own a detached house, you probably store a fair amount of items in your garage. Once you park your car(s) in there too, you might find there's no room to move an inch. If this is the case, a handy summer project could be building a shed in your backyard for extra storage. You likely find that in the summer season especially, you have extra equipment you want to keep nearby. Lawn mowers, wheelbarrows, and trimmers are all items you probably use regularly, and it would be nice to have easy access to them. A shed can be as big or small as you would like, and it doesn't have to be anything fancy. Any amount of extra outdoor storage space will be handy for you, and a draw for future buyers if you ever decide to sell.
Restain or reseal your deck
If you have a deck you like to lounge on in the summer months, it's important to keep it in shape. Specifically, you need to protect it from the elements. Depending on where you live, you might get a lot of rain throughout the summer season. If you have a wood deck, excessive water contact can cause warping and rot over time. To prolong the life of your deck, you can seal it once a year with a deck sealant. This is a clear coating that helps water bead up on your deck instead of seep into it, thus keeping your deck dryer. This is a task you can likely do yourself, too, so it's one of the less expensive summer projects. Just be prepared for a day of hard work, and make sure you put on some sunscreen!
Renovate your basement
While a renovated basement isn't necessary by any means, it's an ideal project to do over the summer. Similar to the reasons why you might replace your flooring in the summer, it's handy to have somewhere else to go during a basement reno. An entire floor of your home is unusable, so it might be best to do this during a season when you aren't trapped inside. By the time winter rolls around again, you'll be equipped with a brand new basement to enjoy.
Upgrade your garage doors
Lastly, your garage doors can add a surprising amount of value to your home if they are top quality. This is part of your home's curb appeal, and it's one of the first things people will notice from the outside. With that in mind, it might be time to consider an upgrade if your garage doors are old and worn, or perhaps have suffered from a few collisions with cars. It happens to everyone.
You have some variety in what you do for this project. You may consider simply repainting your doors with a colour that makes your home pop from the outside. You could also replace the doors completely, or install windows on the doors for a more decorative look. 
There's an endless list of summer projects you can do as a home owner. You can decide how much time and money you're willing to spend, and how much of a change you want. Some renovations are easy DIYs, and others should definitely be done by a professional. Whatever you choose to do, you have the potential to improve your home's value this season!
If you have any questions about your mortgage, get in touch with us at Clinton Wilkins Mortgage Team! You can call us at (902) 482-2770 or contact us here.