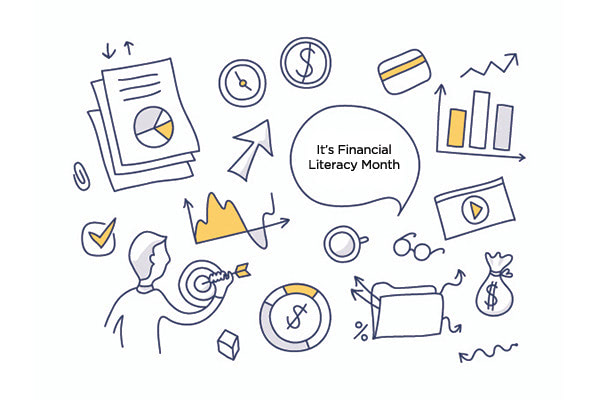 November means it's financial literacy month!
This November, Canada marks its 10th anniversary of celebrating financial literacy month.
According to BDO Canada Affordability Index, 53% of Canadians live paycheck to paycheck. With rising debts and flat incomes, financial stress can be overwhelming. Therefore, financial literacy month provides a great opportunity to learn, grow, and build your financial future!
What is financial literacy month?
In 2011, the Financial Consumer Agency of Canada (FCAC) introduced financial literacy month with a simple goal. This goal is to strengthen the financial knowledge of Canadians.
Ever since then, many financial institutions, non-profit organizations and private sectors have been working with FCAC. The goal is to empower Canadians to have a grasp on their finances through educational materials and initiatives.
This is much needed in today's climate! Take a look below at some of the best ways to educate yourself financially.
Keep an eye on our blog
We will be sharing many blog posts throughout November to help improve your financial literacy. These will include topics such as how to budget, how to use a credit card the right way, understanding good and bad assets, and so much more.
We can't wait to educate you. Be sure to check back here for lots of useful content!
Read personal finance books
Books will always be your friends.
There are lots of great sources to educate yourself on finances. However, if you want to get a core understanding of how to turn your finances around, books are a great place to start.
Start with these:
Rich dad, poor dad

Think and grow rich

The Millionaire Next Door

The 4-hour Workweek
Listen to finance podcasts
Prefer learning on the go? Here, you will find some Canadian finance podcasts to boost your financial literacy while you multitask.
Mo' Money

Debt Free in 30

Because Money
YouTube financial topics
It doesn't matter where you currently stand on your financial journey. There are so many financial influencers on YouTube to learn from.
It's inspiring to watch content pertaining to your financial problems by individuals just like you. Be it about budgeting, investing or debt reduction, they have covered the content in an entertaining way!
So, pause your Netflix and binge on these financial literacy YouTube channels instead:
Two Cents

Graham Stephan

Bridget Casey

Jessica Moorhouse

Economics Explained
Attend finance webinars
These live sessions will give you simple tips and ideas to help you and your family make financially sound decisions. Webinars can be an interactive way to educate yourself this month. In addition, webinars are efficient and provide high value of information in short periods of time. Usually, online workshops are conducted in webinars where you actively involve yourself in the learning process.
Canadian institutes are organizing several webinars for people to take charge of their money. Click on the links below to register:
Be sure to tune back in throughout the month of November for more from all of us at Clinton Wilkins Mortgage Team. However, we are always willing to help answer your questions directly! You can get in touch with us here!