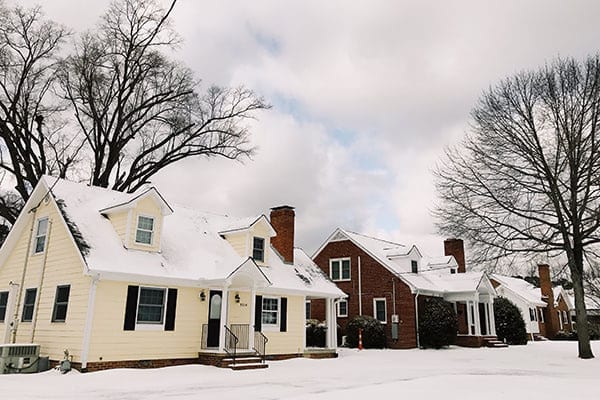 Is winter a good time to buy a home?
When the weather is cold, snowy and unpredictable, shopping for a home may not be at the top of your to-do list. So, is the winter a good time to buy a home?
In fact, when thinking about buying a home, spring, summer and fall are typically the preferred seasons to do so. Moving in a snowstorm sounds dreadful enough.
Yet, as we enter into the colder months, in today's market, many people are actively looking to buy houses. Until this year, the winter market was never this aggressive. If you too are considering buying a home this winter, and are wondering whether winter is a good time to buy a home, here's all you need to know.
The market is hot
Normally, these are the months that people think about holidays and relaxing. But not this winter!
The demand for houses this winter is following that of summer and fall. So much so that the inventory levels are at a historic all-time low. Economists of the Canadian Real Estate Association (CREA) say that inventory hasn't been this low for over 15 years. Nova Scotia has witnessed a drop of 36.9% in inventory since last winter, according to CREA.
As a buyer, you need to prepare yourself for a little bit of competition. One of the realtors mentioned on Financial Post that sellers are receiving multiple offers and houses are being sold within 48 hours.
With the current situation, you need to talk to your realtor to decide on the strategy to close the house you want. A pre-emptive or a 'bully' offer may be a good bet for you considering this market.
Also, in several cases…
Houses are selling for a much higher price
A lot of people are looking to buy a home in Halifax this winter. It's as if the world has suddenly realized that Nova Scotia is a fantastic destination to live in (which, it is!).
Because there is an influx of buyers with a lower supply of inventory, houses are selling for a significantly higher price than last year. To be precise, Canadian Mortgage and Housing Corporation claim that Nova Scotia has witnessed a 17% increase in the selling price since 2019.
This summer, nine properties in the Halifax region sold for $100,000 more than the asking price, according to the Nova Scotia Association of Realtors (NSAR).
To top it off, NSAR claimed that 960 houses sold for $10,000 or more over the asking price this year.
If you are looking to buy a home this winter, you can safely assume that you will have to offer much more than the asking price to even be considered.
More flexibility with movers
Although the market is hot and houses are selling for a pretty penny, there are some positive aspects of buying a house in the winter. One of those being you have more flexibility with booking movers.
Moving isn't fun, especially in the winter, so why not take one stressor away in the home buying process and hire professionals to do it for you.
Moving companies are usually booked solid from spring to fall, but they're typically not as busy in the winter months. There's a high possibility that may be different this year, but either way, you'll have a bit more flexibility with booking your movers.
You may be eligible for tax deductions
The holidays are the last chance to buy a house before the year ends.
If you successfully buy your first house before the new year, you may get to claim tax deductions and tax credits. Click here to know exactly what you may be eligible for.
However, even if you are potentially capable of some extra tax deductions, discuss this with your professional tax consultant. This can be a bit more complex since Canada has several homeowner tax breaks you can benefit from.
Never skip a home inspection
If there's one problem with buying a home in the winter, it's that snow and ice can hide some serious issues. How would you understand if your roof has no issues if it's covered in snow?
Also, it's during the cold season that critters and rats crawl into the basement and attic to avoid the weather outside.
To be on the safe side, invest in the right home inspector who is trained to spot all the flaws in the house during the winter months.
Don't wait to make your decision
If you are looking to buy a home this winter, do not take weeks to make your decision. Houses are literally selling like hotcakes.
Covid has lit a fire in the real estate market. With so many working from home, an influx of tenants are seeking homeownership.
The market is so fierce, that a lot of buyers outside Atlantic Canada are buying homes unseen. They are not physically present because of the bubble. Yet the deals are closing.
That should keep you apprised of how quick you need to be if you want to close a house. If you start to get cold feet, you likely won't land the home you want.
In the end, buying a home in the winter isn't a bad idea. But it can be a unique experience when you compare it to house hunting in the warmer months. It's definitely worth the effort!
If you're looking to buy a home this winter and need some guidance on where to start, give us a call at Clinton Wilkins Mortgage Team! You can reach us at 902-482-2770 or get in touch with us here.