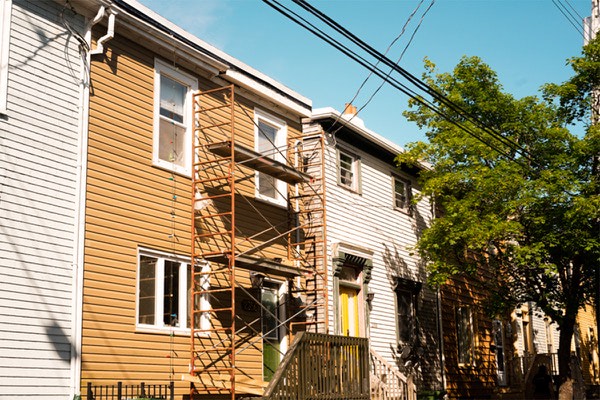 Which home renovations are most valuable today?
Home renovations have been through some major ups and downs over the past couple of years. Quarantine created a big spike in Canadians looking to revamp their living space, then sky-high material prices caused some people to pause their plans. Now, home renovations are still on the pricier side, but are becoming increasingly desirable to home owners once again. If you're looking to increase your home's value by completing some renovations, we have compiled a list of some of the best projects to take on!
Kitchen remodel
A kitchen remodel is valuable year-round, and its consistently high return on investment (ROI) is why we're including it here. A kitchen renovation is timeless. The kitchen is the center point of the home by everyone's standards, which is why keeping it updated is important for maintaining its value. If you plan to sell, a newly renovated kitchen will go a long way. Of course, tearing apart a kitchen is a big undertaking and can be an even bigger nuisance, as your access to food and cooking is limited. If you're not up for destroying your kitchen and building it up from scratch, a minor remodel can be well worth the investment too. This might mean upgrading the countertops or replacing the cupboards, or maybe putting a fresh coat of paint on the walls and replacing the appliances.
Bathroom remodel
Similar to kitchen upgrades, a bathroom remodel is very valuable in terms of home renovations. Everyone in the home uses the bathroom, as opposed to a bedroom that only one person might be using. Since bathrooms have more traffic, they deserve more attention in terms of upgrades. A dated bathroom is noticeably less appealing, and can even look a little yucky. If your tub is yellowing, your sink is cracking, and your toilet still has a crocheted cover on the lid, it's time for some updates. A fresh white tub and toilet go a long way, as does a fresh coat of paint and decor updates. Liven up the space with new art, a modern mirror, a fresh shower curtain and finishing touches like house plants, baskets for storage, and some personal decor items.
Roofing update
Fall is approaching, and this is a good time of year to have a look at the condition of your roof. Fall brings rain, and winter can bring heavy snow and gusty winds, neither of which will be kind to your roof if it's weak. One of the best home renovations at this point in the year might be a roofing update or replacement as we approach the colder seasons. This way, you will have a new, durable roof just in time for autumn. How can you tell if it's time to replace your roof? The most obvious sign is if your roof is missing shingles. Think about the age of your roof. After 15 years or so, many roofs will start to decline. Rot, moss, or curling shingles are all signs it's time for an upgrade.
Replace your carpets
If you have carpeting in your home, you know it can be a real bother trying to properly clean them. You can vacuum all you want, but that doesn't do the same job as a real, deep clean. If your carpets are old and worn, it might be time to replace them anyway. You can either swap it out for new carpeting, or opt for hardwood or laminate flooring instead. Non-carpeted areas tend to look more modern, and are easier to clean, but carpeting certainly has its place in some rooms as well. Any kind of updated flooring will be a valuable renovation in your home as it can make an entire room look nicer and be more appealing to everyone.
Replace your furnace if needed
While it feels hot right now, the colder months will be upon us in no time. You don't want to wait until December to find out your furnace needs replacing, when the temperatures have dropped and companies are busy with hundreds of requests just like yours. Now is a good time to check on your furnace. If it looks like it will need replacing, you can get on that now and save yourself the hassle later. Home renovations like this are preventative and can save you time and money later. When the temperature starts to drop, you'll be prepared!
Refresh the front door
Finally, it's time to focus on curb appeal. This is especially important if you plan to sell your home, as you want viewers to fall in love with the outside before they even see inside. Your front door draws the eye and is the centerpiece of your front yard, so refresh it with a new colour, or even a new style altogether. Faded and peeling paint or old colours don't help a home look its best. Adding in a modern pop of colour, for example, is a great way to make your house look great and increase its value. Front door renovations are also fairly simple compared to other major projects.
There's no shortage of home renovations for owners to tackle. These are just a few examples that consistently perform well, or are timely, given the approaching fall season. If you choose to take on some home improvement projects, be sure to consult a contractor to discuss the process, prices, and methods, if it's something you feel you can't tackle on your own. 
If you have any questions about your mortgage, get in touch with us at Clinton Wilkins Mortgage Team! You can call me at (902) 483-2770, or contact us here.