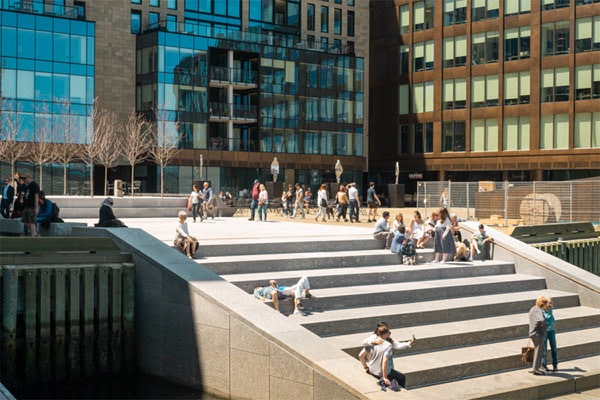 5 ways to enjoy Halifax this summer
If you find yourself in Halifax this summer, you may be wondering what the best activities are to ensure you enjoy this city to the fullest. Whether you're a resident of the area, or you're a tourist, there's endless ways to enjoy Halifax this season. With so many options, it's hard to know where to begin. Here, we've outlined some of the best things to do in this wonderful city this summer, plus some options that make great day trips just outside Halifax! What appeals to you most?
#1 Go patio hopping
Halifax is well-known for its amazing selection of patios. Take some time and go patio hopping this summer to enjoy different views, atmospheres, and of course, food and drinks! Whether you want to be by the water, on a rooftop, or downtown, Halifax has the spot for you. The city boasts over 80 patios, many of which are dog-friendly, so you and your pup can enjoy an outing on the town together. Argyle Street, Lower Water Street, and Grafton Street have some of the biggest collections of waterfront, downtown, and rooftop settings. Along all of these streets, you'll find restaurants and pubs offering great seafood selections, one of Halifax's culinary specialties. Black Sheep Restaurant, The Decks on Argyle, and The Beer Garden are some fan favourites!
#2 Become a cyclist
Why drive when you can bike? One of the best ways to enjoy Halifax and surrounding areas in the summer is to explore by bike, where you can get a different perspective of the city (and get a bit of exercise too!). Halifax is very bike-friendly, either on your own or as part of a tour. The city's bike paths are constantly growing, providing you with dedicated bike routes and paths less congested with traffic for more enjoyment. You can also take on the I Heart Bikes City Tour, which allows you to travel within the city and explore different areas. Even if you're a local, Halifax is an excellent place to explore by bike. If you're feeling up to it, you can also rent a scooter from HFX e-Scooters in various spots around the city!
#3 Take in some Halifax culture
Halifax is rich in culture and history for you to enjoy this summer. Even if you're a born and raised Haligonian, we're willing to bet there's still something new for you to discover about this city! What better way to enjoy Halifax than to learn more about it?
Citadel Hill is a fascinating reminder of Halifax's beginnings and how the British military used it to settle the town and guard the harbour. You can learn all about Halifax's military history and travel back in time to experience the life of a Citadel Hill soldier. Georges Island is another historic site, right in the middle of the Halifax Harbour. A quick ferry ride takes you right to the island, where you can spend some time admiring the views of Halifax and wandering around Fort Charlotte, another military base. Apart from military history, you can also check out the Canadian Museum of Immigration at Pier 21, and the Maritime Museum of the Atlantic. Halifax culture awaits!
#4 Check out the festival scene
Halifax is full of summer festivals and events for both locals and visitors to enjoy. From one-day celebrations to multi-day festivities, odds are you'll be in town during some type of event! Two of the most popular events in the city every year are Halifax Pride and the Halifax Busker Festival. 
Halifax Pride is a yearly celebration of the LGBTQ+ community, this year taking place from July 14-24. While the full schedule of events has not been released yet, we know the Pride Parade will take place on July 16, often the most popular part of the celebration. There will be lots of vendors, performances, and shows throughout the days and nights. You can check out their website to follow along as more details are released.
The Halifax Busker Festival runs from July 27 – August 1, featuring performances and shows with some of the most talented street performers in the world. The festival includes music, acrobats, magic, and so much more from various vendors! You can find more details here.
Festivals are great ways to enjoy Halifax this summer. You can read about more summer events coming to the city here.
#5 Become a beach lover
Who says you need to spend thousands of dollars to fly down south? There are many gorgeous beaches for you to check out this summer. All the best spots are within a one hour drive of Halifax's core, giving you some easy day trip options. Summer is best spent by the water, after all. Crystal Crescent, Conrads Beach, and Rainbow Haven are some of the most popular beach locations we recommend you check out.
Halifax and the surrounding areas have also become popular places to surf over the years. While it might not be California or Hawaii, Halifax has beaches with spectacular views and waves that range from beginner to expert level. Lawrencetown Beach Provincial Park is arguably the best spot for newbies to begin their surfing adventures. It's a scenic area with spots to rent out boards, and even take lessons from East Coast Surf School. 
Halifax is one of the greatest cities in Canada. With that in mind, it's super easy to spend a summer here, taking advantage of everything it has to offer. Whether you want to take on nature, enjoy the downtown core, or check out the waters, there's endless ways to enjoy Halifax. We hope you find Halifax as incredible as we do, whether you're a visitor or a long-time resident!
If you have questions about your mortgage, get in touch with us at Clinton Wilkins Mortgage Team! You can call us at (902) 482-2770 or contact us here.