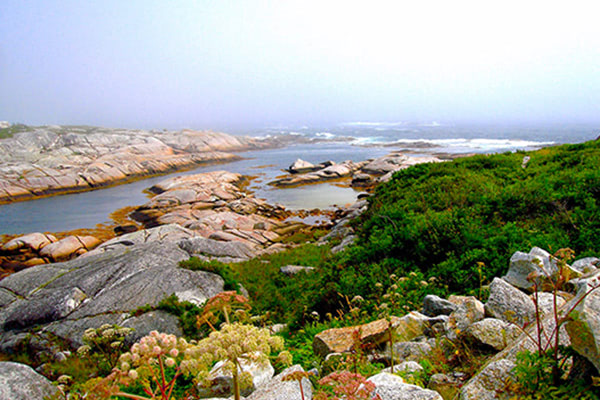 Nova Scotia outdoor activities to enjoy this summer
Are you searching for some fun summer activities to enjoy this season? For the second year in a row, it's likely your summer plans have been derailed. Vacations and travel are restricted, and indoor activities are limited as well. However, Nova Scotia still has plenty to offer for those who love to be outside. Exploring outdoor options is a great way to pass the time and enjoy this summer, even if it's not in the way you were planning. All of the following Nova Scotia outdoor activities are fun options for you and your family to check out this summer. At the time of writing, these places and activities are all set to operate in 2021, with COVID-19 guidelines in place. Please double check restrictions before setting off, and respect social distancing measures!
Cabot Trail, Cape Breton Island
The Cabot Trail is a famous driving path that takes you through the Cape Breton Highlands National Park. This beautiful trail is a perfect option for people who love driving. The scenic route guides you through a winding drive with stunning views of the coast and valleys. The whole loop is almost 300 kilometers long, and you can make stops along the way to check out some of the best hiking and scenic views. Trust us when we say you will be in awe every time you turn a bend and see the incredible views ahead.
Cabot Trail is one of the best Nova Scotia outdoor activities for those who like a combination of relaxation and movement. It offers a variety of options for activities to suit most people, and is an excellent way to get outside this summer. While it's a bit of a journey from Halifax, Cabot Trail is well worth the distance. Be sure to look into dining and accommodations if you decide to check out this spot to see what's open!
You can find more information on Cabot Trail here.
Lunenburg Walking Tours
Lunenburg is a United Nations Educational, Scientific and Cultural Organization (UNESCO) World Heritage Site, and it should definitely be on your agenda this summer. This town offers plenty of fun outdoor activities for everyone, complete with guided tours so visitors can get the full experience. The Essential Old Town tour takes visitors through the history of Lunenburg, and by some of the coolest 18th century buildings in town. The Haunted Legends tour explores the darker side of the town for those who like a bit of a spookier experience. An upcoming tour, Fisherman's Folklore, will dive into Lunenburg's reputation in the seafood industry. Walking tours of this historic, colourful town are just over an hour, so they're perfect for a quick adventure. 
You can also explore Lunenburg without a tour if you prefer a less structured day. However you experience it, this town is one of the Nova Scotia outdoor activities you shouldn't miss this summer!
You can read more information about Lunenburg here.
Martinique Beach Provincial Park
Looking for sandy shores to enjoy? You don't need to take a plane to tropical beaches this summer to enjoy Martinique Beach Provincial Park. This five kilometer stretch is the longest sandy beach in the province. Boardwalks make this beach great for exploring and walking, but swimming and beachcombing are also two popular activities at this location.
While the beach, trails, and picnic spots are open, be mindful that certain areas might be closed to the public. Social distancing measures are also in effect!
You can read more about Martinique Beach Provincial Park here.
Rum Runners Trail
Connecting Halifax and Lunenburg, this 119 km trail includes everything you might want to experience while exploring the outdoors. The trail takes you through hiking spots, beaches, and towns along its route. There's lots of opportunities for walking and exploring, and under normal circumstances, the little towns of Hubbards and Chester have tons of eating and shopping options. You can look ahead to see what's open and closed in these areas before you set off.
Rum Runners Trail is mainly flat, which makes it perfect for cycling. If you're hoping to get on a bike and explore this summer, this is a great option for you.
You can read more about Rum Runners Trail here.
Kayaking on the waterfront
Do you love being near the water? Get in a kayak and explore the beautiful waters of Nova Scotia this summer! Harbour Watercraft Tours & Adventures is open along the Halifax waterfront this season, providing true Nova Scotia outdoor activities. You can take part in a kayak tour or rent a Sea-Doo and set off to explore the aquatic sights of the province. Experienced guides will take you to some of the best locations in the area, like the Bedford Basin and Halifax Harbour.
Enjoying Nova Scotia from the water provides a whole different experience for visitors. Be sure to take advantage of these summer opportunities while you can!
You can read more about water activities and Harbour Watercraft Tours & Adventures here.
Even if your summer doesn't go exactly as you thought it might, there are still tons of Nova Scotia outdoor activities for you to enjoy. Take advantage of as many as you can this year, and remember to follow COVID-19 guidelines!
If you have any questions about buying a home or refinancing your mortgage this summer, get in touch with us at Clinton Wilkins Mortgage Team! You can call us at (902) 482-2770 or contact us here.