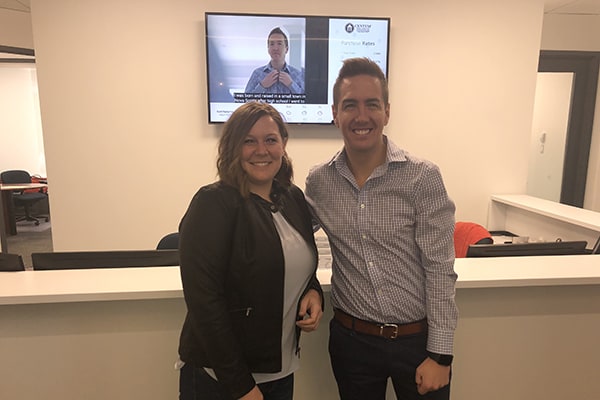 Welcome, Ashley Butt, to TeamClinton!
Please join us in welcoming Ashley Butt, the newest Mortgage Advisor on the Clinton Wilkins Mortgage Team! Ashley comes with over 11 years experience across the financial services industry as a financial planner. We are excited to have her on board!
Ashley's Background
Ashley has extensive experience working with clients to build and manage their financial plans. Her career in the financial industry spans over 11 years –  beginning while she was in university. Her deep passion for financial education will serve Ashley well as she meets and serves new clients in the mortgage space.
A Few Thoughts from Ashley
When asked about "Why Clinton Wilkins Mortgage Team?" Ashley was quick to answer and praise the work Clintons team has done around education. To quote, "I am excited about what Clinton is doing in the industry – he is truly supportive of each team member. With a focus on education he wants to bring educated home buying to the masses. He is demystifying mortgages."
Ashley's Role
As a mortgage advisor, Ashley will be working with clients to understand the biggest purchase of their life. Her main focus will be ensuring her clients are making a sound financial decision and helping them understand what financial health means. She will then take them through the process and paperwork of making their home a reality.
Clinton's Thoughts on Ashley Joining Team Clinton
"Having Ashley join the the team is exciting!," said Clinton. He adds, "With her years of experience in the industry as a financial planner, and now as a mortgage broker, Ashley will be a great addition to our team and help us continue to provide our clients with unparalleled service."
Final Thoughts from Ashley
Ashley prides herself on continuous learning and taking a team-based approach in her work. As an avid volunteer, she is heavily involved in the Rotary Club of Halifax and even Chairs the well known Ribfest. Ashley believes in blending a professional and personal approach by learning the stories of her clients. This is a great opportunity for both Ashley and the team to grow together! Click here for more information about Ashley, or to reach out if you have any mortgages related questions!