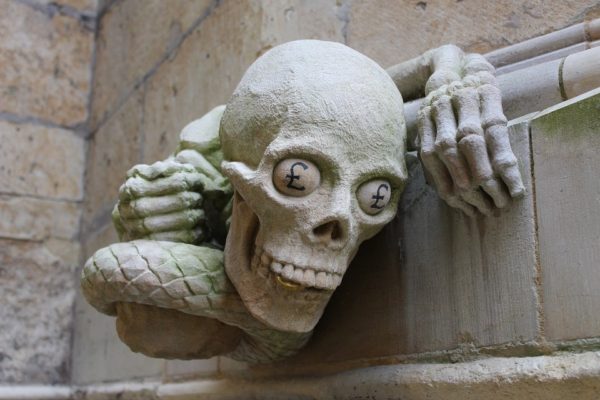 Spooktacular Bank of Canada News!
Remember that time in July when we advised that the teensy rate hike implemented by Bank of Canada was a summer shower, not a hurricane?
We've officially entered…
The Eye of the Bank of Canada Storm Please, don't run around aimlessly with arms flailing just yet. The initial Bank of Canada news is great!
As predicted by mainstream media at the eleventh hour, Bank of Canada's October 25, 2017 rate announcement turned out to be nothing for homeowners to be frightful of. Prior to a few days before the announcement, Bank of Canada was widely predicted to follow two back to back rate hikes with a third.
A spooky prospect, considering the financial difficulty many Canadians are experiencing following the hikes in July and September. Luckily, Bank of Canada has not altered their trendsetting rate (for the time being, anyway).
The Good Word
Variable-rate mortgage clients will see no increase in their payments as a result of the October 25, 2017 announcement, huzzah!
Slowing influences like the new mortgage rules, and uncertainty surrounding the North American Free Trade Agreement, are reported as key factors in Bank of Canada's decision to let rates ride for the time being.
Combined with a down-trend economically, and a stronger Canadian dollar, it seems Bank of Canada's fears of inflation has been staved off for the time being (wipes sweat from brow).
So, What?
Our professional TeamClinton opinion has not changed since last we posted regarding Bank of Canada. Advising the nervous Neds out there to slow their mortgage rate roll and resist locking in variable rate mortgage products.
We've said it before and we'll say it again; historically speaking variable rate mortgage products have withstood the test of time. They still tend to perform better over the life of a mortgage than a fixed rate.
That said if you've any doubt in your mind regarding your mortgage as it currently stands; get thee to an unbiased mortgage broker you trust today!
Why Go Broke(r)?
Deciphering the finance industry's constant ebb and flow can be a) genuinely tricky b) seemingly intimidating to the uninitiated and c) occasionally time-consuming.
That's why we recommend sparking a relationship with a mortgage broker (chemistry is important) you feel comfortable with and trust. With access to a variety of lenders, a mortgage broker provides more options than a Big Bank employee, who sells a few mortgage products for their financial institution.
As an intermediary between lender and borrower, mortgage brokers source the best rates and work in clients' best interests instead of a financial institution's bottom line. Did we mention they're also adept at finding creative solutions to financial issues?
Bonus Points: A great mortgage broker will become 'your person'. They're in your stable, and on your team. When the dirt hits the fan! They take a holistic view of your financial situation and work with existing equity to help you breathe easier again.
Set up a mortgage consultation meow
View current lending rates