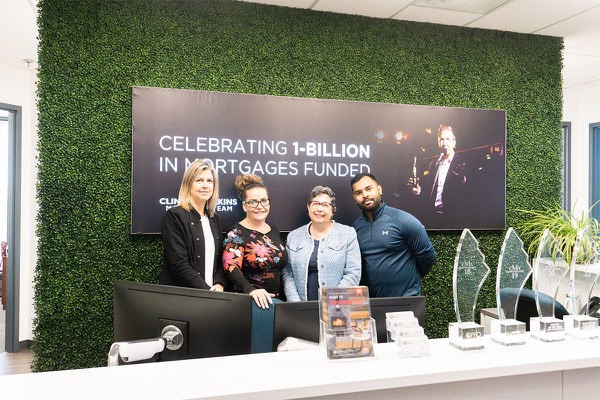 It's time for our 2022 year in review!
2022 is nearing the end of its run. It was another year of challenges and changing conditions, but in a much different way than 2021. COVID-19 and the cutthroat real estate market may have faded into the background, but they were replaced by rising interest rates and the risk of a recession. However, it was a year of growth and overcoming new obstacles, and we're happy to have shared that experience with you! 
As we run through our 2022 year in review, we look forward to welcoming 2023 with all of you in beautiful Nova Scotia!
2022 at Clinton Wilkins Mortgage Team
2022 was another busy year for us at Clinton Wilkins Mortgage Team, both professionally and personally. We were lucky to welcome two more new team members at the beginning of the year, Cat Fogarty and Rahul Bedi! Cat became our newest mortgage broker, bringing years of experience with her. Rahul's role as an associate mortgage broker has helped our team form great relationships with our clients. You can read more about Cat and Rahul on our team page!
After two years of virtual ceremonies, we were also thrilled to be back in-person at the Canadian Mortgage Awards in April. Even better, Clinton took home awards for both Canadian Broker of the Year and Broker of the Year, Atlantic division! Clinton is excited for the opportunity to keep providing the best services for clients like you in the years to come.
In terms of business, we had another active year for mortgages. We're ending 2022 with an expected 825 deals, valued at over 280 million. Of course, we couldn't have done this without the support of our partners and clients, and the dedication of our team!
A year of economic uncertainty
There's no denying it's been a challenging year for many Canadians. Between an intense housing market, interest rate increases, record-high inflation, and the risk of an upcoming recession, we know many people are feeling worn down. Through it all, we have done everything to provide the most personalized advice for our clients. We recognize that not everyone's situation is the same, and we have continued to tailor our services to each Nova Scotian to help them achieve their goals!
The Bank of Canada's busy year
Of course, our 2022 year in review has to include the Bank of Canada's actions. This year, the bank introduced seven interest rate hikes, moving the overnight rate from 0.25 per cent in January to 4.25 per cent today. The bank's goal of targeting inflation meant it was prepared to announce as many rate increases as necessary. While inflation has subsided, it came at the cost of higher monthly mortgage payments for many Canadian borrowers. 
Buying a home in today's climate
Buying a home in Halifax has been an experience that has changed throughout the year. At the start of 2022, low interest rates and high housing prices meant competition was intense and supply was very low. As the Bank of Canada raised rates, and the market began to cool down, we saw less competition and slightly better conditions for buyers. Currently, buyers have to balance the advantage of lower housing prices with the drawback of high borrowing rates.
As always, we have emphasized the importance of using a mortgage broker throughout 2022. Anyone planning to purchase a home should review the benefits of a broker's services before diving into the market.
Preparing for 2023
As we round off our 2022 year in review, we want to look ahead to 2023. There have been concerns that the Bank of Canada has overcorrected the market, raising the risk of a recession. Should we hit an economic downturn, it's important to have a plan in place to manage your finances and savings. Falling on hard times can feel rough, but you can prepare yourself with a good financial strategy. 
2022 was a year of change, and 2023 will likely have some uncertainty as well. However, we want to emphasize our commitment to you and the rest of the community as we look forward to another year!
Thank you!
Finally, we want to thank you for another year of showing us your support and trust. We are committed to providing you with top quality mortgage guidance and advice, and the door is always open for you. We couldn't do what we do without you, and we look forward to continuing to serve you in 2023!

From all of us at Clinton Wilkins Mortgage Team, happy holidays! We can't wait to see you in the new year.
Need to get in touch? Reach out to us!